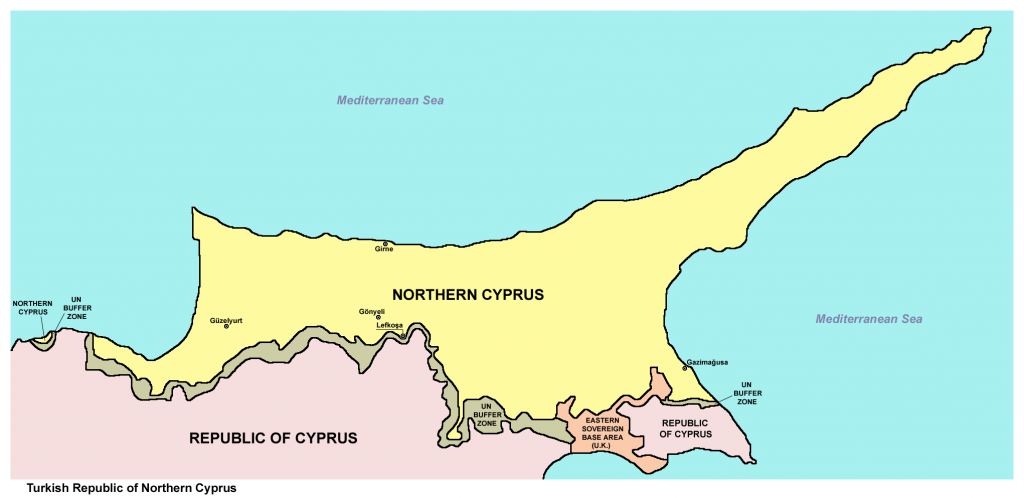 For the past few weeks, all eyes have been on how New Zealand has been winning the war against coronavirus. Yet over in the Eastern Mediterranean, a similar success story is playing out in the Turkish Republic of Northern Cyprus (TRNC).
The small country with a population of 350,000 has managed to flatten its infection curve less than seven weeks after its first confirmed case on 10 March.
There have been no new reported cases of coronavirus infections for the past ten days and the last Covid-19 death in North Cyprus was on 13 April.
Oguzhan Hasipoglu, an MP for the TRNC's main coalition partner Ulusal Birlik Partisi (UBP, National Unity Party) and the Head of the TRNC Parliament's Foreign Relations Committee, told T-VINE he believed the strategy adopted by his government was successful in containing the coronavirus pandemic because the politicians had worked "hand-in-hand" with the country's leading medical and scientific experts.
"Medical and scientific experts played a vital role in the TRNC's approach to coronavirus. We implemented without delay all their advice on safety measures to contain the pandemic and flatten the curve. It is because of this action that North Cyprus now has very low levels of infections and deaths," explained Mr Hasipoglu. "To date, the TRNC has had four coronavirus-related deaths. Two of these were German tourists who arrived on the island on 8 March. The vast majority of the 108 confirmed cases of Covid-19 have recovered, with a further five still receiving treatment," he added.
While many European states, including Britain, Spain and Italy, failed to see the threat and take effective action early on, the TRNC did not hesitate to implement stringent measures to combat the threat of the pandemic.
The country's first confirmed case of Covid-19 was a 65-year-old tourist from Germany who was holidaying in North Cyprus. Their party had arrived on the island on 8 March and after being taken ill, the health authorities diagnosed the person with coronavirus. Two days later the tourist's spouse became the country's second confirmed case, and by 13 March the number of Covid-19 cases in the TRNC had gone up to five.
The Turkish Cypriot government quickly placed all 840 German tourists and staff at Salamis Bay Hotel, in Magusa / Famagusta, under quarantine. They also ordered all non-essential work places to be closed, and imposed a strict regime on the movement of residents outside of their homes, with stiff penalties for those who violated the terms of the lockdown. By the middle of March, the country had suspended all international travel into North Cyprus. Foreigners were banned from entering the TRNC and any repatriated citizens arriving by air, road or sea would enter into state-administered quarantine for 14 days, and a further seven days of self-isolation in their own homes.
Testing and tracking were also a key part of the TRNC government's armoury. Official statistics show that up until 26 April 2020, the health authorities carried out 9,462* tests, including testing front line staff multiple times.
Entire villages such as Lapta found themselves under a curfew if any villager tested positive for the virus. There were no objections to the measures by the general public, who watched in horror at the mounting death toll across Europe, and particularly in Britain, where the world's second largest Turkish Cypriot diaspora lives and who have been particularly hard hit by the virus.
On 28 March, the TRNC suffered its first Covid-19 fatality when Jabusch Bruno Gottfried Gerhard died in Lefkosa Dr. Burhan Nalbantoglu State Hospital. The 73-year-old German national had underlying medical conditions. Four days later on 1 April a second German tourist, 83-year-old Lieselotte Hosh, also passed away of coronavirus at the same hospital. She had suffered from diabetes and hypertension, and did not recover after going into intensive care.
The country's third coronavirus victim was Umit Tilki, who passed away in hospital on 7 April. The 78-year-old suffered from heart disease. The fourth person was 54-year-old Mehmet Ugur Kaya, a Turkish national from Giresun who was living and working in the TRNC. He died in hospital on 13 April having been admitted for Covid-19. There have been no coronavirus deaths in the TRNC since Mr Kaya's death and no new cases of coronavirus reported since 18 April. The recovery rates of those infected is also remarkable, as the daily government update shows.
Early medical intervention has meant 99 of those who tested positive for coronavirus in the TRNC have made a full recovery. As of 27 April, five people remained in hospital. The number of deaths and recoveries per head of population puts the TRNC among the leading countries in the world in effectively combatting Covid-19. Yet, due to its politically unrecognised status, little attention has been paid to this incredible success story.
All the more incredible given that the TRNC has no direct access to the World Health Organisation and other international experts due to its ongoing political isolation. Turkish Cypriots have no formal representation at the United Nations, despite taking part in UN-brokered talks for the past 56 years to solve the Cyprus conflict. It's something Mr Hasipoglu believes must change going forward:
"The virus doesn't recognise manmade borders and combatting this global pandemic requires everyone to play their part. Co-operation is essential and yet even on such vital matters Turkish Cypriots find themselves shut out of key organisations such as WHO."
For now, the international politics has to wait as the TRNC government looks to get its economy working again after six weeks of lockdown. Heavily dependent on tourism and foreign students attending its universities, it remains to be seen how that can be achieved when the authorities must also maintain safeguards to keep the virus out of North Cyprus due to the country's limited medical facilities.
"After over a week of no new reported cases of coronavirus [in North Cyprus], the government is now focussing on plans to gradually lift the lockdown restrictions. We are mindful of the risks, but with careful management, we believe we can remain coronavirus-free," said Mr Hasipoglu.